Western Australia's food labelling program, Buy West Eat Best (BWEB), has won a prestigious national public relations award for its Plating Up WA initiative held in June.
The program took out the Public Relations Institute of Australia's 2018 Golden Target Award for best Digital and Social Campaign.
The Plating Up WA campaign was driven by the Department of Primary Industries and Regional Development, which administers BWEB, as part of the program's 10th anniversary celebrations.
Department Executive Director for Trade and Investment, Liam O'Connell said social media was a vital channel used to encourage consumers to dine out at participating restaurants and venues that showcased produce that had been grown, farmed, fished or produced in WA.
Mr O'Connell said the Plating Up WA social media campaign exceed all expectations, assisting the outstanding success month-long celebration.
"Social media was an important channel used to drive people to a webpage and book a table with participating restaurants and venues across the State," he said.
"Our analysis of the campaign showed a 7.52 per cent increase in BWEB social media traffic across Facebook, Instagram and Twitter during the month of June, alongside a 13.8 per cent increase in the BWEB social media engagement rate.
 "The Plating Up WA website received more than 10,500 hits during June, while there were nearly 800 hits on the BWEB website via the promotion's Facebook posts.
"Social and digital media was clearly a valuable tool, alongside other strategies, to raise awareness and motivate consumers to get out and enjoy our beautiful State and the fantastic local produce it has to offer."
The use of video was a feature of the digital campaign, with a series of short mpgs produced that paired iconic WA landscapes and specialty dishes that were to entice diners.
Mr O'Connell said the Plating Up WA initiative not only served to increase winter dining experiences, it also boosted BWEB awareness and provided a platform to profile our Western Australian restaurant and foodservice sector.
"Nineteen restaurants and venues signed up as participants in the promotion, while six of them committed to become a member of BWEB," he said.
"It is also interesting to note that there was also a 20 per cent increase in participants in the regions.
"The qualitative feedback from stakeholders was overwhelmingly positive and all participants have already committed to the 2019 campaign."
BWEB 10th anniversary celebrations will continue on Sunday 2 December from noon, with a Taste of WA event to be held at the Yagan Square Market Hall Plaza, which will showcase produce from the South West.
For more information about Plating Up WA and BWEB visit buywesteatebest.org.au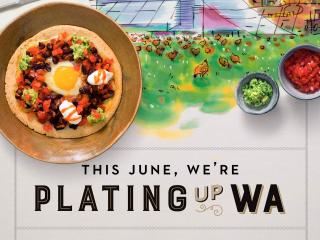 Media contacts: Jodie Thomson/Megan Broad, media liaison , +61 (0)8 9368 3937