The Department of Agriculture and Food is encouraging people in regional and metropolitan areas to participate in the State's inaugural Biosecurity Blitz from 18-30 September.
Department development officer and Biosecurity Blitz coordinator Rosalie McCauley said the two-week Blitz would help the department discover and respond to agricultural pest insects, weeds and diseases.
"The aim of the Biosecurity Blitz is to improve awareness of the importance of biosecurity surveillance in protecting Western Australia's agriculture and food sector and environment from harmful pests and diseases," Dr McCauley said.
"Pests and diseases affect the productivity and profitability of agricultural production and our access to valuable international markets.
"To help protect our agrifood sector, we're encouraging people throughout Western Australia to participate in the Biosecurity Blitz and we're providing support and technology to allow people to easily report suspect pests and diseases: MyPestGuide, PestFax Reporter and MyCrop.
"The MyPestGuide Reporter app allows people to report a suspect pest by sending a photograph of it taken using their smartphone, and include additional details and the location on a map.
"MyCrop is a detailed diagnostic tool designed for graingrowers and agronomists to report the incidence of crop pests and diseases on their properties.
"PestFax is most relevant to agronomists and naturalists who are confident at reporting pests and require an app to make repeated reports."
People who don't have mobile devices can send a report using the MyPestGuide online or Pestfax online tools. People may also phone the department's Pest and Disease Information Service on free call 1800 084 881 or email info@agric.wa.gov.au.
Dr McCauley said biosecurity was everyone's business and the contribution of community members during the Biosecurity Blitz would bolster biosecurity surveillance undertaken by the department and farmers.
"It's estimated that up to 40 per cent of pests that threaten agricultural production are found in urban areas," she said.
"Potential pests can be found in kitchen pantries, and unwanted pests and diseases in home gardens, paddocks and local bushland."
The department will assess each report and send a response to the smartphone used to report the find.
Detection of harmful weeds, insects and plant diseases enable effective biosecurity responses to be put in place.
More information about the Biosecurity Blitz, and links to the apps, is available on the department website.
The Biosecurity Blitz is part of the department's $20 million Boosting Biosecurity Defences project supported by Royalties for Regions.
MyPestGuide Crop app was developed with support from the Council of Grain Grower Organisations. MyCrop and Pestfax tools were developed with the support of the Grains and Research Development Cooperation.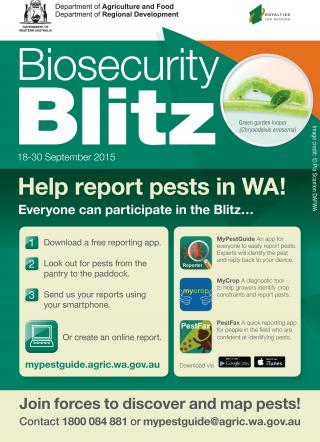 Media contact: Jodie Thomson/Dionne Tindale, media liaison +61 (0)8 9368 3937