Cereal growers, consultants and agronomists have been urged to stay alert for signs of the Russian wheat aphid during the growing season.
While Russian wheat aphid has not been detected in Western Australia, it has been confirmed in South Australia, Victoria, New South Wales in 2016 and, more recently, in Tasmania.
Department of Agriculture and Food GrainGuard coordinator, Jeff Russell, encouraged landholders and the community to continue surveillance measures introduced last year.
"Russian wheat aphids can easily be confused with oat and corn aphids so we would like landholders and consultants to report any cereal aphid observations via our free MyPestguide or PestFax reporter apps," Mr Russell said.
"Look for crop symptoms, such as streaking, leaf curling and redness in both wheat and barley crops, as well as weeds like wild oats.
"Ideally, we would like as many reports as possible, taken from wheat and barley crops, as well as volunteer cereal plants and Poaceae grasses."
The department strengthened border protocols in 2016 and expanded its surveillance activities to routinely monitor trial and research sites.
Department entomologist Dustin Severtson said a concerted surveillance effort was essential to confirm the presence or absence of Russian wheat aphid.
"It is important to monitor crops right through the growing season, as early detection will aid an effective response if the pest is detected," Dr Severtson said.
Conditions for aphids could be ideal this growing season, with climate models forecasting below average rainfall and warmer daytime temperatures.
"These conditions are more conducive for aphid reproduction and the potential to cause more damage, when the crop is young," Dr Severtson said.
"The warmer temperatures also encourage aphids to consume more plant juices robbing the plant of vital nutrition. Stressed plants are also more susceptible to aphid damage.
"Unlike common aphids, Russian wheat aphid can be more damaging, as it injects a toxin into the plant causing yield losses of up to 80 per cent."
However, the interstate experience in 2016 showed that if action is taken promptly, Russian wheat aphid can be effectively controlled.
"Permits have been secured for comparatively cost effective insecticides that have proven to be quite effective in protecting cereal plants from Russian wheat aphid," Dr Severtson said.
More information about Russian wheat aphid is available by clicking here or download the MyPestGuide or PestFax reporter apps.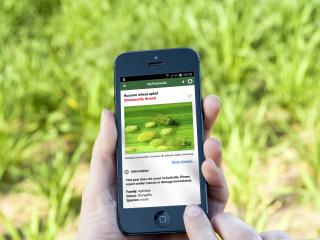 Media contacts: Jodie Thomson/Megan Broad, media liaison                        
+61 (0)8 9368 3937