Information on assessing livestock welfare before and during loading, transportation, in saleyards and depots will be a feature of the Department of Primary Industries and Regional Development's (DPIRD) display at this week's Newdegate Machinery Field Days.
DPIRD animal welfare inspectors will be on-hand to talk to producers and industry about the requirements for sheep and cattle welfare at every stage of the movement process and to answer any questions about ensuring livestock are fit for the journey.
Department animal welfare inspector Jenni Westwood said she would be available to discuss questions about the recent Animal Welfare (Transport, Saleyards and Depots) (Cattle and Sheep) Regulations 2020 with producers and industry.
"Producers can also pick up handy information to take away, including a frequently asked questions guide and a factsheet," Ms Westwood said.
Livestock producers visiting the display can also find out how to get the most out of the updated Sheep Condition Scoring app and seasonal information using the Pastures from Space online tool.
Visitors to DPIRD's shed will have access to a wealth of information on a range of department projects, including the regional telecommunications network and skeleton weed research, while they can also register interest in the upcoming Soil Systems Master Classes.
Growers can also visit development officer Jeff Russell at the grain biosecurity display for information on farm hygiene practices, while landowners can update their property details with the department's ever-popular property mapping team.
Keen fishers will also be catered for with information at the Fisheries display focussed on the new recreational fishing rules, which were introduced on 1 July 2021.
These rules include a new finfish possession limit that applies to people in regional areas who visit coastal areas for fishing holidays.
The Newdegate Machinery Field Days is being held on Wednesday and Thursday 1-2 September. DPIRD's display is located in the exhibition shed at site 17, First Avenue, Newdegate Sports Ground complex.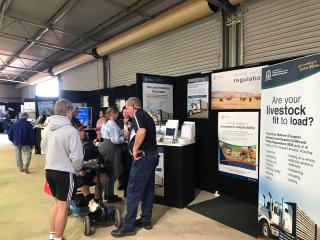 Media contacts:
Megan Broad/Katrina Bowers, media liaison                        
+61 (0)8 9368 3937