An event which has led to a new line of honey-based cosmetics, medicinal bee venom harvesting and honey-based wine is back again to inspire more new ideas.
This year's Honey Bee Hackathon on 5-6 November is hosted by the Department of Primary Industries and Regional Development (DPIRD) together with the University of Western Australia, Cooperative Research Centre (CRC) for Honey Bee Products and the Bee Industry Council of WA.
A good mix of about 50 entrepreneurs, scientists, bee keepers and university students put their creative marketing and problem solving skills forward at the last Hackathon which saw Rhonda Flottman's project to harvest bee venom for medical research announced as the winner.
Industry members, innovators and students are again invited to attend this year's event at DPIRD's South Perth offices to share product ideas and further develop them for local and export markets.
Commercial beekeepers, honey bee product packers and successful project development businesses will talk to participants about their ideas before they undergo a panel evaluation.
The participant with the best concept, which provides an opportunity to value-add to the honey industry in Western Australia will receive $500 to progress the idea.
Honey Bee Products CRC chief executive officer Liz Barbour said the WA honey bee industry was currently valued at $50 million at the farm gate, but had the goal to grow to $100 million by 2030.
"To reach this industry goal, changes in thinking on honey bee product marketing are needed, and events such as this are a great way to inspire innovative ideas and approaches," she said.
Previous Hackathons have resulted in the launch of new honey products onto the market, such as honey-based cosmetic products developed by Yanchep-based business Beeautify and the development of a dry honey-based wine called Ambrosia by Esperance-based Yume Wine.
DPIRD agribusiness development consultant Gerard Leddin said WA had the advantage of having 'clean' bees which were free from many pests and diseases, and sustainable products.
"The department is working with the honey industry to support market development opportunities that enable the industry to grow," Mr Leddin said.
Registration are required and tickets can be purchased from Eventbrite https://www.eventbrite.com.au/e/honey-bee-hackathon-tickets-169796418659
For further information visit the CRC for Honey Bee Products website crchoneybeeproducts.com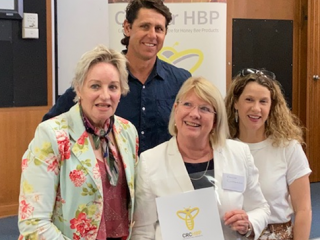 Media contact: Megan Broad/Donna Coleman, media liaison,                      +61 (0)8 9368 3937