Equipment needed for a chicken necropsy
standard post-mortem kit including scalpel, forceps, scissors
secateurs
dry swabs, jars for individual fresh samples and pooled formalin fixed tissues
swabs in media for bacterial culture
0.5 millilitre (mL) sterile saline (drip fluid) or viral transport media (VTM).
Skin and feathers removed displaying:
Coelomic musculature
Neck and cranial coelom
Coelomic cavity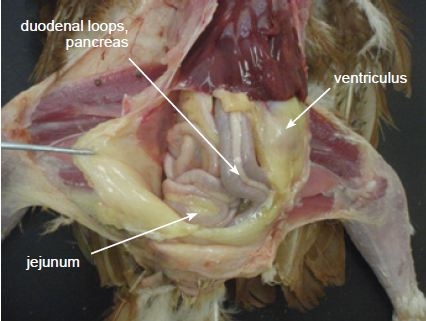 Coelomic cavity with gastrointestinal tract reflected
Gastrointestinal tract anatomy
External examination
Use dry swabs to firmly swab the cloaca and trachea mucosa, then snap swab heads into separate viral transport media (VTM) or saline for avian influenza and Newcastle disease virus testing. (VTM is available from AHL or district veterinary officers.)
Examine the feathers, skin and limbs. Use sticky tape to collect mites and tape to a microscope slide for identification. Take skin scrapes of crusting lesions to reveal mites.
Collect a tracheal swab
Collect a cloacal swab
Post-mortem approach
1. Pluck the feathers from the dorsum and ventrum
2. Disarticulate the leg
3. Expose the pectoral muscle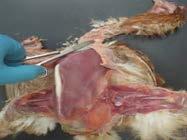 4. Visualise the air sacs while removing keel/pectoral muscle
5. Remove the sternum
6. Reflect the coelomic musculature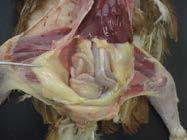 7. Visualise the bursa in dorsal cloacal wall
8. Remove the heart
9. Cut the base of the oesphagus
10. Retract the gastrointestinal tract to expose the reproductive tract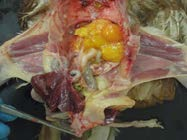 11. Anatomy after removal of the reproductive tract
12. Gently peel the lungs from the rib cage
13. Open the crop and oesophagus
14. Location of larynx
15. Swab the sinuses for exudates
16. Brain exposed for sampling
Remember: Sample lesions if not included in the samples mentioned above; fresh and fixed samples are ideal if lesions are large enough.
For more information, please contact the Animal Health Laboratories.