Method 1: Longitudinal craniotomy
Step 1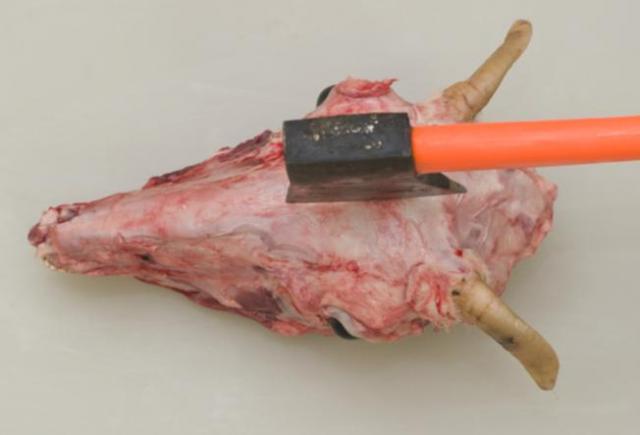 Remove the head at the atlanto-occipital joint. Remove the tongue and pharynx to expose the hard and soft palate. Split the mandibular symphysis and place the head on a non-slip surface such as a rubber mat or onto the ground, using the separated mandible to improve stability.
Step 2
Using a hatchet and a mallet, make a dorsal midline cut through the bone from the nose to the foramen magnum. Place hatchet blade at cutting site and use mallet to split the bone. Do not swing the hatchet. The head does not need to be skinned, but making an incision through the skin along the proposed line of cutting helps to stop the hatchet blade from deviating.
Step 3
Turn the head over and cut through the soft and hard palate and ventral cranium.
Step 4
Stand the head upright on the foramen magnum and use a knife to sever any remaining attachments. Lever the nasal bones apart, using the hatchet to increase leverage and split the skull. If nasal bones feel as if they will snap, check all the bone is cut, especially between the occipital condyles.
Step 5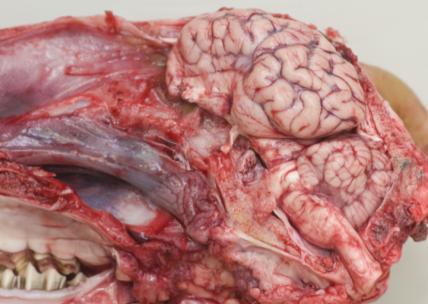 Use scissors to cut the remaining meninges and cranial nerve attachments to allow removal of the entire brain. Note: for TSE exclusion testing, remove the dorsal cerebellum (sheep only) and 2-3cm spinal cord and submit these sections fresh. Fix remainder of brain in 10% buffered formalin.