Public Environmental Review
Open for submissions 18 December 2017 - 29 January 2018
An Environmental Review Document (ERD) has been prepared by the Department of Primary Industries and Regional Development in accordance with Environmental Protection Authority (EPA) procedures and is released for public review.
The ERD describes the proposal to extend the State Barrier Fence, and examines the likely environmental effects and the proposed environmental management procedures associated with the proposed development.
Hard copies of the document may be purchased for $10 (including postage and packaging) or a CD version is available free of charge from:
Department of Primary Industries and Regional Development
Address: 3 Baron-Hay Court, South Perth, WA 6151
Telephone: 9368 3333
Copies of the document may also be downloaded from here.
Copies of the document will be available for examination at:
State Library of Western Australia, Perth Cultural Centre, 25 Francis Street Perth WA 6000
Esperance Public Library, Windich Street, Esperance WA 6450
Ravensthorpe Community Resource Centre and Public Library, Old Fitzgerald Building, Lot 6 Dunn Street, Ravensthorpe WA 6346
Hopetoun Community Resource Centre and Public Library, 46 Veal Street, Hopetoun WA 6348
Public submissions are to be received by the EPA by 29 January 2018. Submissions can be made via the EPA's consultation website.
Alternatively, submissions can be:
posted to: Chairman, Environmental Protection Authority, Locked Bag 33, Cloister Square, Perth WA 6850
delivered to: Environmental Protection Authority, Level 4, The Atrium, 168 St Georges Terrace, Perth 6000.
If you have any questions on how to make a submission, please ring EPA Services – Department of Water and Environmental Regulation on 6364 7000.
Background
The intention of the Esperance extension is to protect south-eastern agricultural enterprises from the impact of emus, wild dogs and kangaroos coming from the rangelands and adjacent woodlands. The proposed extension is in response to socio-economic impacts on industry and communities in the region from periodic emu 'migrations', kangaroo damage to crops and pasture, and the impact of wild dogs in limiting livestock enterprises.
The proposed Esperance extension will provide significant benefits to agriculture and have other associated positive impacts for the region. These benefits were endorsed by the agricultural industry in the Esperance community and the WA Government.
The Esperance Extension Reference Group (EERG) was formed to advise DPIRD throughout the development and approvals processes. Key stakeholder organisations are represented on the EERG.
Most of the proposed alignment for the Esperance extension is adjacent to agricultural private property boundaries on vacant Crown land along an existing cleared fire break and/or following existing roads or tracks.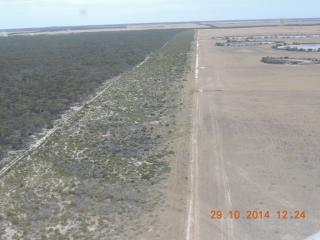 Most of these fire breaks were re-cleared during the emergency Esperance fires in November 2015 and ongoing fire break fuel modification/clearing will continue to occur irrespective of the proposed Esperance extension. Re-alignment of the proposed fence on private boundaries is proposed where high environmental or cultural concerns are encountered on vacant Crown land.