Following an environmental review period and subsequent approval by the Minister for Environment on 15 April 2019, subject to implementation conditions documented in Ministerial Statement 1095 State Barrier Fence Esperance Extension, the construction of the extension of the State Barrier Fence began on 23 May 2019. More information about the review is available from the Environmental Protection Authority.
The Esperance Tjaltjraak Services Pty Ltd fencing team has constructed the first 63 kilometres of fence in the Jerdacuttup/Cascade area (as of April 2020), commencing at the termination of the existing 1190km-long State Barrier Fence.  This has provided opportunities for capacity building for the local Aboriginal business, and will prepare them for future contracting opportunities.
A Public tender will be released (via TendersWA) in the future, to procure construction services to undertake all works required to complete the Esperance extension to the State Barrier Fence. 
Background
The intention of the Esperance extension is to protect south-eastern agricultural enterprises from the impact of emus, wild dogs and kangaroos coming from the rangelands and adjacent woodlands. The proposed extension is in response to socio-economic impacts on industry and communities in the region from periodic emu 'migrations', kangaroo damage to crops and pasture, and the impact of wild dogs in limiting livestock enterprises.
The proposed Esperance extension will provide significant benefits to agriculture and have other associated positive impacts for the region. These benefits were endorsed by the agricultural industry in the Esperance community and the WA Government.
The Esperance Extension Reference Group (EERG) was formed to advise DPIRD throughout the development and approvals processes. Key stakeholder organisations are represented on the EERG.
Most of the proposed alignment for the Esperance extension is adjacent to agricultural private property boundaries on vacant Crown land along an existing cleared fire break and/or following existing roads or tracks.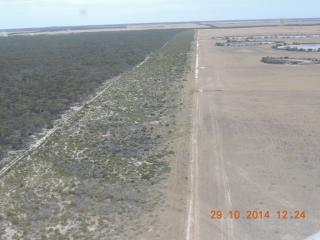 Most of these fire breaks were re-cleared during the emergency Esperance fires in November 2015 and ongoing fire break fuel modification/clearing will continue to occur irrespective of the proposed Esperance extension. Re-alignment of the proposed fence on private boundaries is proposed where high environmental or cultural concerns are encountered on vacant Crown land.