Key messages
In Western Australia, industrial hemp (Cannabis sativa) is legislated as cannabis that leaves and flowering heads do not contain more than 1.0% of Tetrahydrocannabinol (THC).
The Industrial Hemp (IH) Time of Sowing Trails by DPIRD over the summer of 2021-22 shows the variety of industrial hemp selections available and the effect the time of sowing has on those varieties. 
Generally, mid-October through to mid-December is the best time to sow industrial hemp aimed at grain production.
This work does not cover information for those wishing to grow IH for fibre production alone. Work on fibre varieties is due to commence in late 2022. There may be a potential for fibre-only crops to be sown earlier than grain or dual-purpose crops as they are not dependent on flowering (not tested).
Introduction
The southern Western Australian Industrial Hemp Time of Sowing Trials program (IHTOS) is a DPIRD funded trial taking place in Western Australia (WA).
Potential IH growers have the choice of new varieties from Australia and overseas. There is very little information about how these varieties are adapted to the WA environment in terms of different seeding times. The main objective of this trial was to investigate the grain yield and quality of new IH varieties response to seeding times under irrigated conditions in the south of WA at the Manjimup Horticultural Research Institute.
What we did
Eight industrial hemp varieties were sown over two dates at the Manjimup Horticultural Research Institute on 3 November 2021 and 2 December 2021.  
The paddock history was summer wheat in 2019/20 and pasture species in the years prior to that.
All plots received 150 kg/ha of compound fertiliser (NPKS = 16%, 8.7%, 0%, 13%) at sowing.  This was followed by three further split applications of nitrogen as urea, each of 40kg/ha at sowing, 25 days and 50 days after sowing, and two applications of potassium (K) as MP, each of 37.5kg/ha at sowing and 25 days after sowing.
Target sowing rate was 100 plants/m2, however establishment rate was generally 40% to 50% of this target.
Irrigation through standpipes totalled 281mm of water for the November sowing, and 356mm of water for the December sowing. In the order of 22mm of rain fell on the trial.
Table 1 Demonstrates variety name, origin and target use of varieties sown in 2021

| Cultivars | Country of Origin | End Use |
| --- | --- | --- |
| ECO - 013 | Australia | Grain |
| ECO - 019 | Australia | Grain |
| ECO - 110 | Australia | Grain |
| ECO - 201 | Australia | Grain/Fibre |
| ECO - 003 | Australia | Grain |
| Fibror -79 | France | Grain |
| Fedora 17 | France | Grain |
| Orion - 33 | France | Grain |
Grain yield (Kg/ha)
The trials showed no time of sowing effect on the five varieties tested for the November and December sowing dates.
Several varieties yielded significantly more grain than others. Time of sowing did not affect grain yield in this trial.  Fedora-17 (1.71T/ha) was the highest yield although not significantly different from ECO-003 (1.68T/ha) and ECO-110 (1.49T/ha).  ECO-13(1.23T/ha) and Fibror-79 (1.23T/ha) were the lowest yielding and not significantly different from each other. Orion-33 produced a slightly higher yield but was not notably different to ECO-13 and Fibror-79.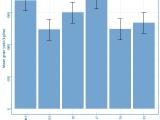 Total Dry Matter production (Kg/ha)
Dry matter production may be important for crops grown for dual purpose (grain and fibre) or for fibre alone. Fibror-79 had the highest dry matter in the early sowing, and ECO-013, Fedora-17, and ECO-110 along with Orion-33 produced useful later planting dry matter yields that were not significantly different from each other, except Orion-33 and ECO-110.
Plant height at maturity
Plant height at maturity was severely affected by variety and time of sowing to a lesser extent, demonstrated int he graph below.  Fibror-79 was the tallest, followed by ECO-013 and Orion-33.
Grain oil content %
The different varieties had a significant difference in oil content. There was no effect on oil content for different sowing times.
The highest grain oil content was recorded in Fibror-79 on the later sowing. The oil content of other varieties was unaffected by sowing time.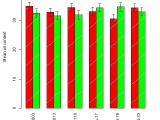 Grain protein content (%)
Protein content of IH was not affected by sowing dates. The highest protein content was recorded in ECO-003 (25.90%) and the lowest was Fedora-17 (22.92%).
Discussion
The seeding periods for the industrial hemp varieties evaluated were from early November to early December in the south of WA. Seeding time selction should be based on higher grain yield, harvest dry matter, protein and oil content. Our result suggests that cultivars ECO-003, ECO-110 and Fedora-79 performed better when sown in early November. These varieties also produced the highest yield. The variety ECO-019 and ECO-201 were damaged by birds in both times of sowing and were not reported here.
Results and recommendation
Growers using the varieties in this trial should only plant between mid-October to mid-December. There is little benefit in grain yield between varieties tested between these dates.
The varieties that gave the highest grain yields in this trial were: 

Fedora-17        1.71 T/ha
ECO-003         1.68 T/ha
ECO-110         1.49 T/ha
Total dry matter production at maturity

Fibror-79 had the highest total dry matter production when planted early
The other varieties had no significant difference in dry matter yield

Plant height at maturity (the top three varieties were not significantly different)

Fibror-79        
Orion-33
ECO-013  

Oil content of the tested varieties showed no significant differences.  Oil varied between 32.2% and 33.7%

Fibror-79         late planting
ECO-003         early planting
ECO-110 & ORION-33 early plantings

Protein content of the best yielding varieties were significant but not affected by time of sowing. 

ECO-003 had the highest protein 25.9%
Fedora-17 had the lowest protein 22.92%
Based on one year of trial results, Fedora-17 had the highest grain yield but lowest protein.  The ECO-003 variety produced the second highest grain yield, good oil and protein levels. Fedora-17 could be considered the most productive variety based on grain alone. Overall, these varieties showed little significant difference between them in grain, oil and protein yield. 
Based on harvestable grain yield alone, Fibror-79, ECO-013 and Orion-33 were less productive than the other varieties. 
Future research
DPIRD is trialling IH in Manjimup and Kununurra for the next two years as part of the AgriFutures National Industrial Hemp Variety Trials. These trials will also include additional end-use for industrial hemp as fibre and feed for livestock research.