Key messages:
In Western Australia, industrial hemp (Cannabis sativa) is legislated as cannabis where leaves and flowering heads do not contain more than 1.0% of Tetrahydrocannabinol (THC).
The Industrial Hemp Variety Trails by DPIRD and Agrifutures over the summer of 2021-22 show there is a wide variety of industrial hemp selections available however growers should choose those with superior production (grain or biomass) for the farming region.
Industrial Hemp (IH) for grain yield in the south of Western Australia is suited to planting in mid-October to mid-December. Later planting is not recommended for grain production.  There may be a potential for fibre only crops to be sown earlier as they are not dependent on flowering, this has not yet been tested by DPIRD. 
Introduction
The Industrial Hemp Variety Trials program (IHVT) is an Australia wide program of IH trials, co-funded by AgriFutures and DPIRD, as well as state agriculture departments in South Australia, Northern Territory, Victoria, and Tasmania.
IH growers have a choice of new varieties from Australia and overseas alhtough, there is very little information about how these varieties are adapted to WA environment seeding times. The main objective of this trial was to investigate how the grain yield and quality of new IH varieties respond to various seeding times under irrigated conditions in the south of the Western Australia at the Manjimup Horticultural Research Institute.
What we did
Five industrial hemp varieties were sown over two dates, the 3 November and 2 December 2021, where wheat had been grown in the previous summer (2019/20) and pasture species in the years prior to that.
All plots received 144 kg/ha of Nitrogen (N) in three applications, 75 kg/ha Potassium (K) in two applications, 13.1 kg/ha Phosphate (P) and 13 kg/ha Sulphur (S) at seeding.
Grain yield (kg/ha)
The different sowing dates in early November and early December showed similar grain yield outcomes for the five varieties tested. 
Total dry matter production (kg/ha)
Dry matter production may be important for crops grown for dual purpose (grain and fibre) or for fibre alone. Ferimon-12 produced the largest dry matter yield, whilst the other varieties showed no significant difference in total dry matter.
Plant height at maturity (cm)
Plant height at maturity was severely affected by variety and time of sowing.  Ferimon-12 was the tallest (1.26m average), Henola (1.08m average) and CRS-1 (0.93m average) were both taller in the later sowing.
Grain oil content %
There was a significant difference in oil content by varieties. There was no effect on oil content for different sowing times.
The highest grain oil content was recorded in Ferimon 12 (28.5%), followed by CFX-2 (28.2%), Katani (27.3%) CRS-1 (26.5%) and finally Henola (22.4%).  The differences among the first four varieties were minor. 
Grain protein content (%)
The protein content of hemp varieties and different time of sowing. Grain protein was not affected by varieties nor time of sowing. The highest protein content was recorded in Katani (26.0%) and the lowest was by Henola (22.8%). But there was no significant difference between them. The protein content ranges from 22.8 to 26.0%.
Note:- Katani did have the highest protein content but suffered the lowest grain yield amongst the varieties tested.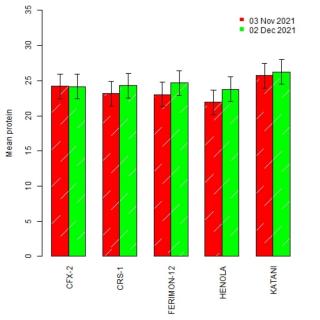 Discussion
The grain yield was significantly different among varieties at both times of sowing. Grain yields for the November and December sowing times were not significantly different for all five varieties. In this trial, the highest grain yield of 1249 kg/ha was recorded for Ferimon-12, while the lowest grain production was recorded for Katani (988 kg/ha). Furthermore, the earlier crop sowing had produced more grain yield compared to the late sowing.
Results and recommendation
Growers using the varieties in this trial should only plant between mid-October to mid-December. There is little benefit in grain yield between varieties tested between these dates.
The varieties that will give highest grain yields in this trial are:

Ferimon-12     1.249 T/ha
CFX-2             1.247 T/ha
CRS-1             1.238 T/ha

Total Dry Matter Production

Ferimon-12 had the highest total dry matter production
The other varieties had no significant difference in dry matter yield

Plant height at maturity

Ferimon-12     1.26m av.
Henola             1.08m av.
CRS-1             0.93m av.  

Oil content of the tested varieties

Ferimon-12     28.5% oil
CFX-2             28.2% oil
Katani              27.3% oil

Protein content of the best yielding varieties (see above) were not significant.

Protein range 22.8% - 26.0%
Based on one year of trial results Ferimon-12 could be considered the most productive variety in these growing conditions, however as many of these varieties showed little significant difference between them in grain, oil and protein yield, all varieties are recommended apart from Katani.
Future research
DPIRD is trialling IH in Manjimup and Kununurra for the next two years as part of the AgriFutures National Industrial Hemp Variety Trials. We are investigating additional end-use for industrial hemp as fibre and feed for livestock.