Conventional headers with a conventional front
Conventional headers with table auger fronts and lifters work well in semi-leafless crops yielding 1.0–1.3t/ha. The make of the crop lifter is a personal choice and may depend on what is readily available or type of header in question. In general, heavier lifters tend to disturb more soil than lighter lifters.
Finger tine reels are also suggested. Conventional headers fitted with bat reels have been used successfully, but harvest speed was reduced to only 4–6km/h. Lupin breakers are also suggested to increase the aggressiveness of the table auger.
Conventional headers with a plucker front
Conventional headers with table auger fronts either with barrel or cylinder-type pluckers (Smale) or belt-type pluckers (Knuckey) are able to harvest semi-leafless field peas, however blockages and losses can be high when growers attempt to harvest at speeds greater than 6km/h. Pluckers perform best as the temperature increases during the day because the peas are more easily plucked from the ground.
Header set-up and modifications appear to determine harvest speed. For example:
Sund plucker without reel: 4–5km/h.
Smale-type plucker, lupin breakers fitted to table auger: 6km/h (the crop could not be harvested without lupin breakers).
Smale-type plucker with a 380mm (15 inch) diameter raised cross auger above table auger: 9–11km/h.
Headers with draper–belt fronts
Headers with draper–belt fronts appear to have the greatest difficulty in successfully harvesting semi–leafless peas due to the large volume to weight ratio resulting in the harvested material sitting on top of the belts and not feeding across into the broad elevator.
This is especially so with fronts which rely on gravity to feed material into the broad elevator (the feeder house auger set well back and low). Harvested material needs to be aggressively pulled into the broad elevator, for example, the feeder house auger set well forward, fitting retractable fingers on the broad elevator auger which is extended, fit the auger with lupin breakers, fit paddles on the cross auger, etc.
As a general comment any modification which creates downward pressure on the harvested material or uses force to move the harvested material will help material feed into the broad elevator.
Raised cross augers
Cross augers set above the belts on the draper fronts alone do not work well in good growth or low yield crops.
Raised cross augers with paddles
Replacing or adding paddles to the auger flighting in the centre improves the flow of harvested material feeding into the broad elevator. Feedback from those who have fitted them has been very positive. Paddles could be metal fins or even heavy rubber belting. This may also be worth fitting to swathers.
Wire fence
One or two lengths of fencing wire across the length of the draper front strung above and at the back of the front. Experiences have varied widely from very poor to adequate. It is considered an unreliable approach on its own, however, wire or rods may be a useful addition to raised cross augers to stop harvested material from going over the rear of the table when material gets behind the cross or table auger. Again the size and speed of the operation will determine the relative success of this modification.
Adjusting reel speed and angle can improve things, that is, from only stopping every 100m and not 50m, but it will not change a poor setup into a good one.
Swathing
A number of growers in the Esperance region in particular have persisted with swathing due to the size of their field pea program. Swathing semi-leafless field peas presents similar problems harvesting with a draper front harvester but it is not quite as bad due to slightly heavier plants at swathing.
Grower remedies subsequently were also the same, that is cross-top augers, cross-top augers with paddles and one suggestion yet to be tried; a top belt near the exit hole of the draper.
All field pea swaths must be rolled with a cotton reel or canola roller. Field pea swaths can be very bulky so adjust swath width and weight of roller to produce a stable swath.
Semi-leafless field peas make an excellent swath — much better than conventional trailing varieties. There is less risk of blowing. One example in the Esperance region showed strong winds hardly moved semi-leafless field pea swaths. Only where willy-willies had moved through paddocks was the swath moved out of line, but no appreciable losses were experienced. Comments from growers were that these swaths were as stable as or even more stable than cereal swaths.
The only risk which is foreseen with swathing semi–leafless field pea is possible quality problems due to an extended period of wet weather because the swaths hold onto moisture more than the swaths of cereals.
Flexfronts
Reports on harvesting semi-leafless field pea at Esperance with a flexfront have been very positive. We would not expect too many problems with this type of front because it is widely used in Canada where semi-leafless field pea varieties dominate.
Examples of harvester modifications
Twelve example of harvesting field peas and modifications to machinery are provided below.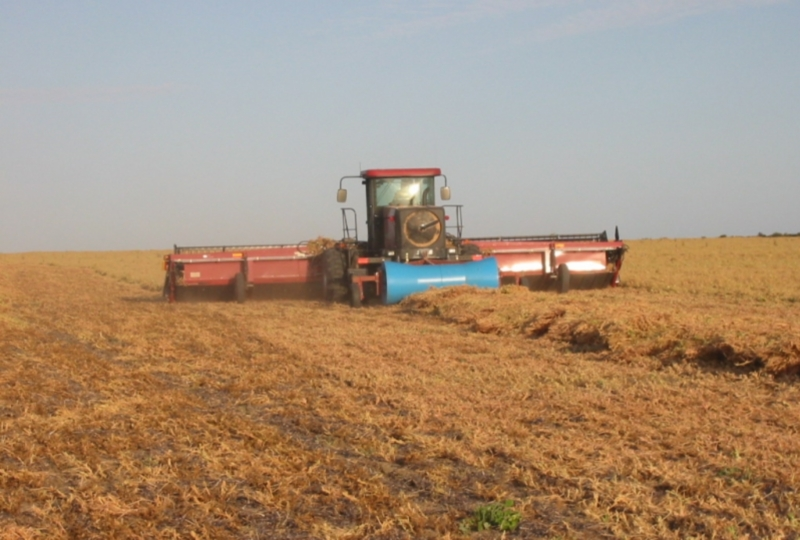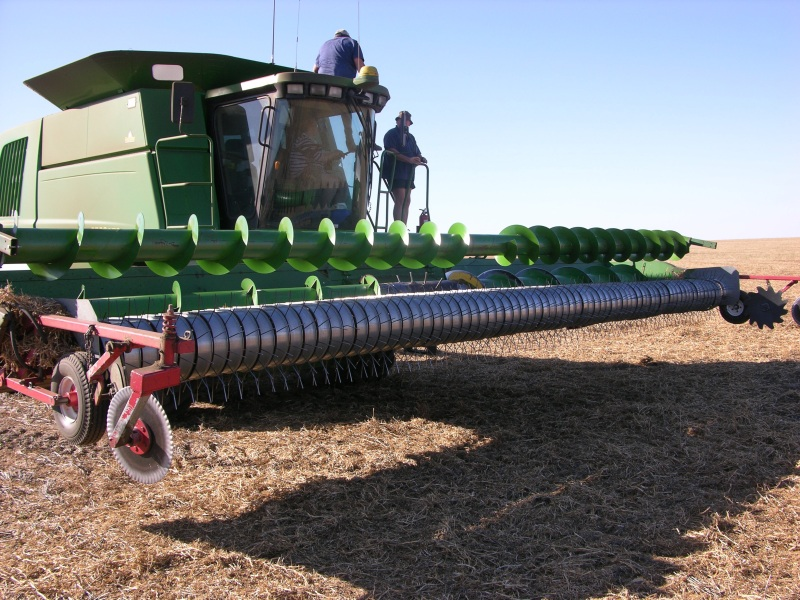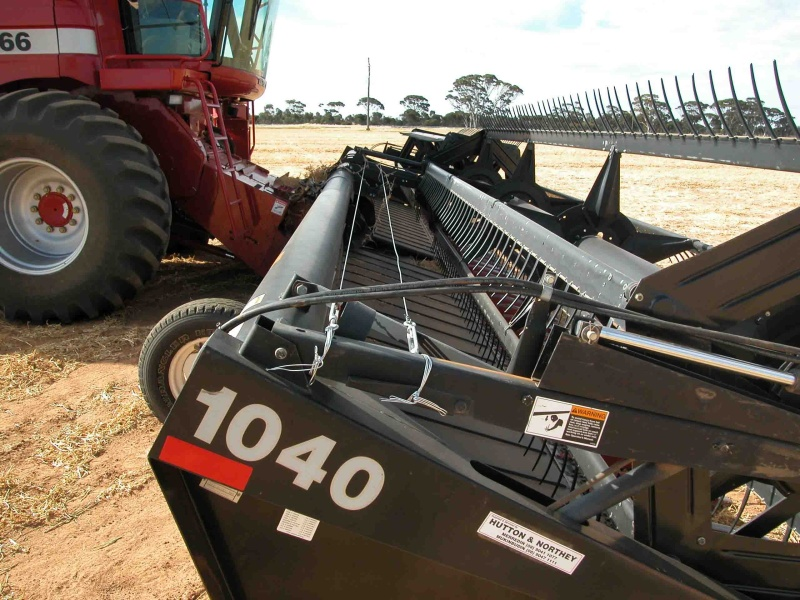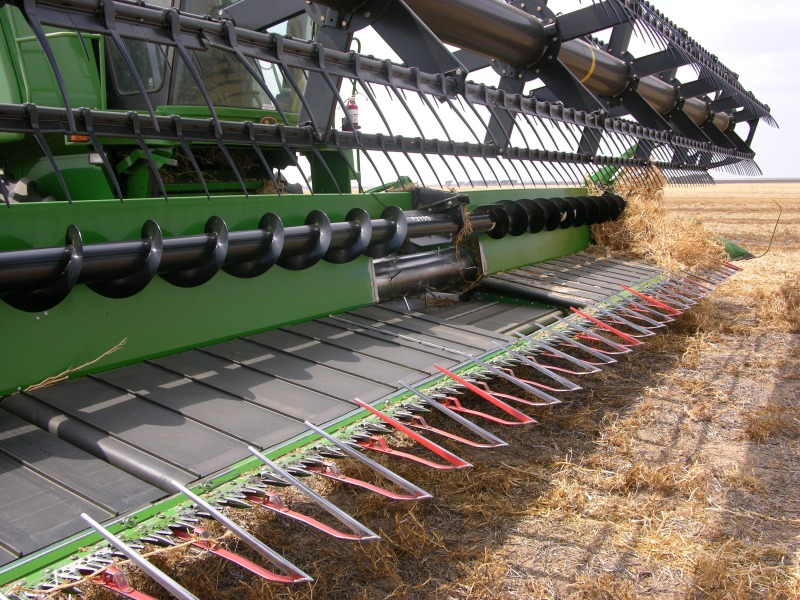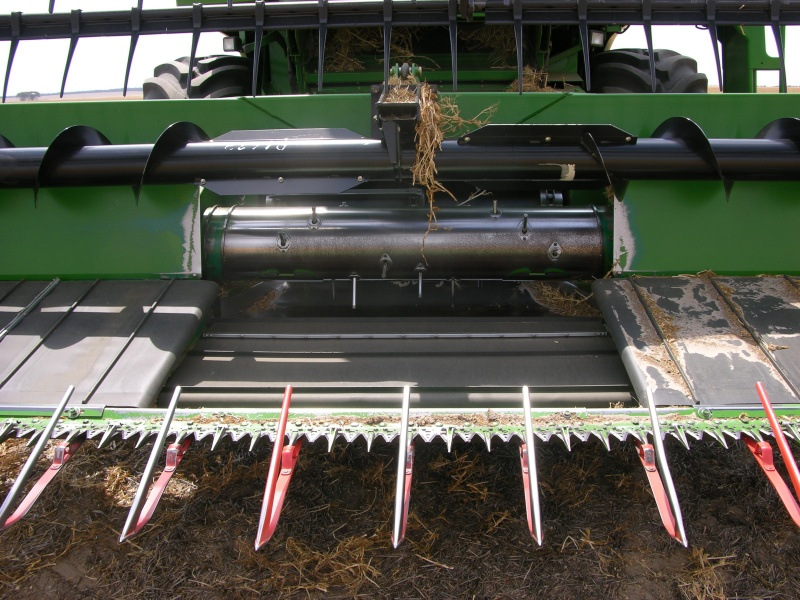 References
Riethmuller, G & Pritchard, I 2003, 'Sucessful field pea harvesting', Department of Agriculture and Food, Western Australia Bulletin No. 4569