Surveillance and reporting
The fall armyworm (Spodoptera frugiperda) is a plant pest that can damage a wide variety of crops. The larvae predominantly feed on crops and pastures from the Poaceae (grass) family, in particular maize, but also sorghum, forage grasses, turf grasses, cereals and rice. The pest can also feed on non-grass crops such as cotton, peanuts, vegetables and some fruit crops. Fall armyworm is known for its ability to disperse and migrate long distances, which enables it to exploit new habitats and expand its range. 
The Department of Primary Industries and Regional Development (DPIRD) is conducting surveillance on the spread of fall armyworm across north Western Australia. Early detection and reporting of fall armyworm will help protect the State's plant industries and the environment.
In October 2019, two pheromone traps were set up in the agricultural area of the Ord River Valley, near Kununurra, Western Australia, as part of the national Northern Area Quarantine Surveillance program.
After the detection of fall armyworm in the Torres Strait and Queensland, DPIRD and Ord River District Co-operative Ltd (ORDCO) established an additional 22 traps established in the Ord Valley. 
The first detection of fall armyworm in Western Australia occurred in Kununurra in March 2020 and was confirmed on 1 April 2020. This was followed by detections of egg masses and larvae in maize and sorghum crops in Kununurra during April and additional detections of adults in various traps across the Ord Valley. 
Pheromone traps have also been placed in Broome, the Pilbara, Carnarvon and Geraldton. 
During March 2020, fall armyworm adults were collected in traps, and larvae were detected in the Broome area in forage sorghum, maize, sweet corn and Rhodes grass. Fall armyworm adults were found in Carnarvon in April 2020.
Growers and agronomists are assisting DPIRD surveillance efforts by placing traps on properties as per the Australian Pesticides and Veterinary Medicines Authority (APVMA) permit regulating the use of the pheromone lures and insecticide moth killing blocks placed in the traps. 
Information on how to set up traps is provided in DPIRD's Fall armyworm surveillance trapping training manual. 
For more details on how to set up a pheromone trap for fall armyworm moths and monitor for larvae, watch the webinar conference presentation delivered by DPIRD senior biosecurity officer David Cousins on 9 April 2020. Alternatively, see the PowerPoint presentation here.
Reporting
Monitoring the spread of this insect across Western Australia during the initial stages of invasion will also assist DPIRD to determine the year-round distribution and migration patterns of fall armyworm.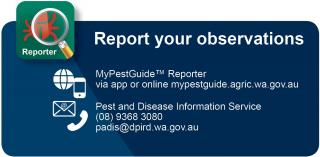 Early detection and reporting of fall armyworm will help protect the State's plant industries and the environment. If you suspect fall armyworm in your crops, home garden, or urban area, make a report using: