Manbulloo Ltd is a medium-sized family-owned company consisting of seven mango farms across northern Queensland and the Northern Territory.
It is Australia's largest grower of the Kensington Pride variety, at 80% of production. Its focus is on growing the best quality mangoes and fostering collaborative value chain relationships.
Read the Manbulloo Ltd - snapshot for quick details on the case study.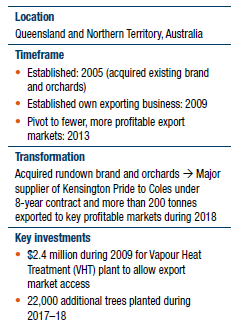 Patterns of success demonstrated by the Manbulloo Ltd case study: 
Why you should read the Manbulloo Ltd - case study:
detailed analysis of Manbulloo's initial approach to their key export markets

real world examples of value chain partnerships

Manbulloo Ltd's customer analysis matrix that was used to rationalise their export business