The northern ag region has a wealth of experience applying soil renovation practices long-term and will be featured at this year's Soil Constraints tour. The two-day field tour will begin and end in Geraldton each day, touring the north on Tuesday 6 August and the south and east on  Wednesday 7 August.
Participants will enjoy networking, discussions and learning about identifying, diagnosing, and managing multiple constraints. A mixture of trials and growers will be visited to learn how managing soils can fit into the farming system and the longevity of the benefits.
This tour is a collaboration between GRDC/DPIRD Soil Constraints West projects DAW00236, DAW00242, DAW00243, DAW00244, DAW00252 and Soil Constraints West II projects DAW1902_003RTX, DAW1901-006RTX and DAW1902-001RTX.
Tour options
The two-day bus tour will begin and end from Geraldton. Participants are able to register for either or both days.
Day 1 (6 August): Geraldton base, northern loop. This day will finish with a tour at Nufab and sundowner.
Day 2 (7 August): Geraldton base, southern loop
Cost and registration
$50 per day (includes lunch, snacks) 
Accommodation is available at Mantra Geraldton for $120 per night. These are private rooms within 2- or 3- bedroom apartments. 
Register your spot by booking the tour and accommodation at https://www.trybooking.com/BCMAD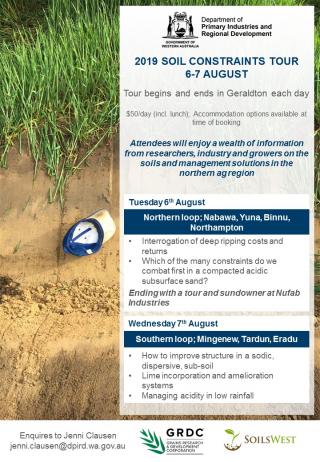 Further information
More detailed program information will become available on this page.
Please contact Jenni Clausen, DPIRD Northam with any queries