Dr
Daniel Hüberli
Plant Pathologist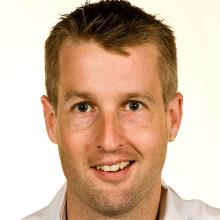 My role in the department
I am a plant pathologist at DPIRD focusing on fungal cereal root and crown pathogens. I am the WA lead on the GRDC funded projects, 'national crown rot epidemiology and management program' and ' national improved molecular diagnostics for disease management.' In this role, I lead research to improve the management of Fusarium crown rot affecting wheat and barley, and survey and validate root and crown diseases to improve the molecular soil tests developed by our collaborators, the South Australian Research and Development Institute (SARDI). My research also involves collaboration with Commonwealth Scientific and Industrial Research Organisation (CSIRO); Murdoch University; Department of Economic Development, Jobs, Transport and Resources (DEDJTR); NSW Department of Primary Industries (DPI); and Qld Department of Agriculture and Fisheries (QDAF).
My background
I have over 18 years' experience in research on soilborne and aerial diseases in WA and California, USA.
I joined DPIRD Plant Pathology in 2009 to conduct research on In-furrow fungicide options primarily for Rhizoctonia solani AG8, but also a little on root lesion nematodes. The outcome of that work and the subsequent project was the trial data supporting the registration of two new in furrow fungicides to manage R. solani. More recently I have led research on disease suppression of soilborne diseases through the project 'Identification and characterization of disease suppressive soils in the Western Region (DAW00201).'  
I have over ten years' experience working on population diversity, host detection and confirmation, monitoring and controlling Phytophthora in native ecosystems in WA and California.
Projects
'National crown rot epidemiology and management program', GRDC project (DAN00175)
'Yield loss response curve for host resistance to leaf, crown rot and root diseases in wheat and barley', GRDC project (DAW00245)
'National improved molecular diagnostics for disease management', GRDC project (DAS00137)
'Tolerance and resistance of oats to crown rot in WA', Boosting Grains R&D Royalties for Regions Flagship Initiative project (FFPjP03)
'Improving grower surveillance, management, epidemiology, knowledge and tools to manage crop disease – WA', GRDC project (DAW00175)
Key Expertise
cereal soilborne diseases, rhizoctonia solani AG8, fusarium crown rot, cereal root disease, wheat root disease, barley root disease, Phytophthora research in forest ecosystems
Qualifications
Diploma of Project Management, North Metropolitan Tafe, 2017
PhD in Plant Pathology, Murdoch University, 2002
BS in Biological Sciences with Honours, Murdoch University, 1995