Solar radiation and fruit surface temperature
The no net area received the highest solar radiation. While not exactly the same as the specifications, the white net showed a 15% reduction and the black net 26% reduction during January and February 2014 (Figure 2) and 2015.  Specifications are only given as a guide to how the nets will perform and in this case the black net was close to specification and the white net slightly less.
Figure 2.  Solar radiation measured in the black net, white net and no net rows for summer 2014.
It is reasonable to assume that the amount of solar radiation reaching the fruit surface should influence the fruit surface temperature (FST). FST was measured over the summer 2013 and14 season (Figure 3).  Average FST was lower under the white net than the black net, even though greater solar radiation was recorded under the white net.
FST was significantly higher in the no net area, particularly during extreme heat events in late summer and a higher percentage of sunburnt fruit was observed.  There was no difference in sunburn between the black and white net areas, and both netted areas reduced sunburn significantly compared to the no net area.
Figure 3.  Fruit surface temperature (FST) and air temperature measured in the black net, white net and no net rows for February till mid-March 2014.
Photosynthetically active radiation (PAR)
The effective area of shade was calculated by measuring PAR on a clear sky day in February 2014 and 2015 using a hand held ceptometer. Several measurements were taken throughout each section at morning, solar noon and afternoon to measure the extent and density of the shade created by the tree.
While measurements reflected shade specification of the net, the reduction in PAR was also influenced by tree vigour. Figure 4 shows the black net had a greater reduction in shade compared with the white net and no net. Tree vigour was higher under the netted areas than outside the net.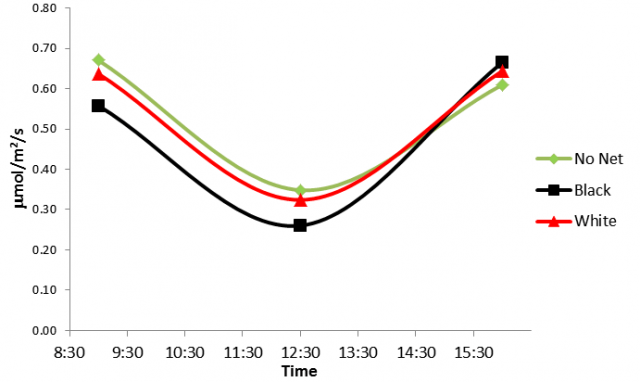 Figure 4.  Average fractional photosynthetic radiation interception (fPAR) measured at morning, noon and afternoon on 23 February 2015 in the black net, white net and no net rows.
During the monitoring of the demonstration site low bird pressure years were experienced with no damage occurring outside or under the nets.
Netting has the capability of reducing bird damage and sunburn damage compared to the no net treatment.  No major hail event was experienced, but anecdotally netting reduces damage caused by hail as seen in previous studies in Queensland. The netting had no impact on the fruit growth rate, flowering was not affected and no significant differences were seen in winter chill between the no net, black net and white net.  The impact of the reduced PAR under the nets and the increased vigour could explain the poor colour development of the fruit.
Reference
Middleton S and McWaters A (2002). Hail Netting of Apple Orchards – Australian Experience.  The Compact Fruit Tree, volume 35, number 2, 2002