Background and aim
Recent work in the northern agricultural region has shown that canola can yield well from low plant densities of 5-10 plants/m2 (Harries and Seymour 2015). Canadian researchers reported that at plant densities of around 20 plants/m2 there was a significant improvement in yield when plants were spaced evenly apart rather than being spaced unevenly within the row (Yang et al 2014). Given the rapid adoption of hybrid canola technology in the northern agricultural region and the associated increase in seed costs, there is interest in precision placement of seed for two reasons (1) to reduce seed rates and therefore input costs and (2) to see if better placement can improve yield and yield stability. This trial tested both aspects by using a range of plant densities with plants distributed either evenly or unevenly along the row. The aim was to determine if spacing canola plants more uniformly within the row can improve yield in the northern agricultural region.
Trial details
The trial was conducted at the Department of Agriculture and Food, Western Australia's (DAFWA) Wongan Hills research facility on a deep yellow sand. It was sown on 20 April using a plot seeder: plots were 20m long by 2m wide and were split in half to obtain 10m of evenly spaced plants and 10m of unevenly spaced plants (split plot design). Seeding was done at a high seed rate and soon after germination seedlings were hand thinned to achieve the desired plant densities and geometry. Plants were spaced unevenly and evenly such that all seedlings were in line with each other across the rows of the plot for the even treatments.
Additionally a survey of commercial paddocks was undertaken to assess whether the spatial pattern of unevenness obtained in trial plots was similar to what occurred with commercial seeding operations. Forty two paddocks were surveyed in a transect from Geraldton to Merredin. Distance between plants in six metres of crop row was recorded.
Treatments
Four plant densities: 10, 20, 40 and 80 plants/m2.
Two plant geometries: even or un-evenly spaced along the row.
Results
Rainfall exceeded the long term average for the site of 388mm. Establishment was good with the plots containing enough plants to enable hand thinning to the desired density and geometry. Regular rain was received throughout the growing period.
Table 1 2016 monthly rainfall (mm) from DAFWA Wongan Hills research facility

| | | | | | | | | | | | | | |
| --- | --- | --- | --- | --- | --- | --- | --- | --- | --- | --- | --- | --- | --- |
| Site | Jan | Feb | Mar | Apr | May | Jun | Jul | Aug | Sep | Oct | Nov | Dec | Year to date |
| Wongan Hills | 66.2 | 0.0 | 149.2 | 77.6 | 46.0 | 57.0 | 80.8 | 68.2 | 34.8 | 17.2 | 2.0 | 7.0 | 606.0 |
Farmer establishment survey
There was a wide range of plant densities observed in commercial crops; a high of 63 plants/m2, low of 9 plants/m2 and average of 23 plants/m2. The distance between plants was recorded in order to assess the variability in the distribution of the plants along the length of the rows. As expected when plant density declined the variability in distribution along the row increased. The variability in distribution observed was similar to what was achieved with the hand thinning in the small plot 'uneven' treatments in our trials. These graphs indicate that the lower the plant density of the paddock or trial plot the more un-uniform the distribution. For example at 20 plants/m2 the deviation between plants in the row was approximately (+/-) 12cm while this reduced to (+/-) 5cm at 80 plants/m2. Hence there is a greater degree of unevenness in plant distribution at lower plant density and in theory if seed are placed more accurately at these low plant densities there may be a response in growth and yield from reduced intra-specific competition.
Field trial
Higher plant density increased NDVI and produced a greater rate of ground cover. Increasing plant density also resulted in thinner stems, reduced stem weight and reduced pods per plant. Seed oil concentration was not affected by plant density or plant uniformity. Seed size was affected by plant density with a trend of increased seed size with increased plant density (P <0.05), while there was no relationship between plant uniformity and seed size.
With good rainfall and cool temperatures in spring canola yields were high, 3t/ha average. Even at the lowest density of 10 plants/m2 yields were above 2.5t/ha. However plant densities higher than 10 plants/m2 increased yield (P <0.001). Yield was not significantly altered by the uniformity of plant distribution however there was a consistent trend (P <0.1) of increased yield at even plant distribution where the lowest three plant densities yielded approximately 5% more when spaced evenly.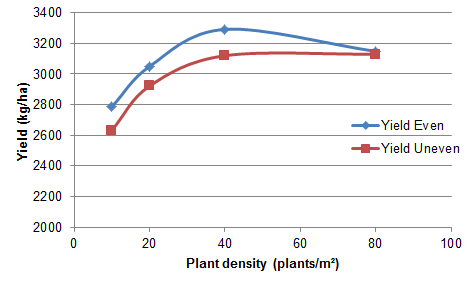 Conclusions
Yields were high even from very low plant density which indicates that it is worth pursuing low seeding rates with precision seeders to save on upfront seed costs. Whilst there were some differences in plant growth and yield observed between uniform and un-uniform plants even plant spacing did not translate to statistically significant increased yields. In Canadian trials yield improvements obtained from uniform spacing were greatest at lower yields of around 1t/ha obtained from plant stands of 20 plants/m2. Therefore it is apparent this work requires further testing in WA in a less favourable season with lower yield potential.
Acknowledgements
Thanks to DAFWA Technical Officer Stephanie Boyce and the Geraldton and Wongan Hills RSU teams for trial management and measurements. This trial (16GE10) was funded by Department of Agriculture and Food, Western Australia and Grains Research and Development Corporation (DAW00227).