Each Recognised Biosecurity Group operates across a number of local government areas. There are currently 14 groups operating across 60 local government areas. Although not all local governments have a RBG operating in their area.
Declared pest rates are being raised for only 12 of these groups in 2018-19.  There will be no rate raised for the Leschenault Biosecurity Group or the Northern Biosecurity Group.
Refer to this table for the local government areas covered by each group and current lists of priority pests (these may not be current. RBGs can advise on current priorities). 
To find out if you have a RBG operating in your area, type in your postcard and hit 'search'.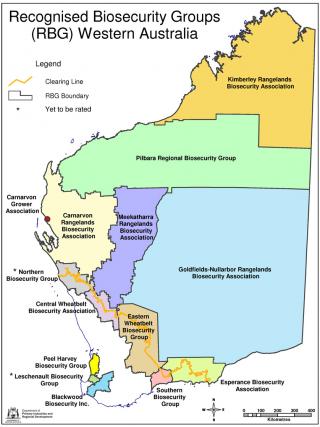 Carnarvon Growers Association
The Carnarvon Growers Association (CGA) plays a key role in assisting land managers to control high risk declared pests throughout the Carnarvon horticultural region. This covers an area of 15km radius of the Carnarvon town, which has a population of around 6150. the CGA encompasses one local government area - the Shire of Carnarvon.
The Carnarvon horticultural area produces an average of 40 thousand tonnes of fruit and fruiting vegetables annually, valued at an average of $80 million at the farm gate. The value to Western Australia's economy is much greater, with retail adding up to 40% on top of the farm gate price.
In addition, the WA government, through the Carnarvon Food Bowl Royalties for Regions funded project, has invested $24 million into new water bore fields and infrastructure and locating new water supplies to expand the horticultural district, which is expected to double in size over the next 10 years. Currently, Carnarvon produce cannot be sold interstate or overseas due to Mediterranean fruit fly quarantine/trade restrictions.
Data from a range of sources shows that the Carnarvon region has significant populations of high risk pests. These pose substantial environmental and economic risks to the horticultural industry.
The CGA RBG will assist properties in the control of declared pests through direct measures and through partnering with a range of state agencies and companies.
The CGA RBG employs an executive officer and two baiters, and has purchased equipment to carry out pest control activities. 
Blackwood Biosecurity Inc.
Blackwood Biosecurity Inc. is the Recognised Biosecurity Group (RBG) for the Shires of Boyup Brook, West Arthur, Bridgetown-Greenbushes, Nannup and the localities of Mullalyup, Grimwade, Wilga West, Balingup and Southampton in the Shire of Donnybrook -Balingup.
It is a not-for-profit community group operating under section 169 of the Biosecurity and Agriculture Management (BAM) Act 2007, to lead a cooperative, integrated and strategic approach to declared pest management across all land tenures.
Our focus
Is to work with property owners, government agencies, industry and business on landscape scales to cooperatively reduce impacts of declared pests. Our current focus is on Narrow Leaf Cotton Bush, Paterson's Curse, Blackberry, Cape Tulip, Bridal Creeper and Cleavers as well as Red Foxes, Wild Rabbits and Feral Pigs.
Your role
Visit us on Facebook and our Website to let us know your declared pest concerns (successes and failures) and to subscribe to our free membership so that we can keep you up to date with biosecurity threats and management opportunities.
Be a good neighbough and encourage your neighbours to do the same. Pests don't respect property boundaries, or for that matter Shire or State boundaries. To succeed we must all work together to preserve Our Land, Our Lifestyle and Our Livelihoods.
________________________________________________________________________
Central Wheatbelt Biosecurity Association Inc.
The Central Wheatbelt Biosecurity Association Inc. (CWBA) is a Recognised Biosecurity Group and has a key role in assisting landholders to control declared pests in its area of management. This area is currently defined as Koorda, Perenjori, and Dalwallinu and Morawa which encompasses a full area of 21 901 square kilometres.
The CWBA encourages landholder and Shire involvement in a broad scale, coordinated approach for effective pest control, targeting wild dogs, red foxes, European rabbits and feral pigs as well as other declared pests seen as a priority for the group. Licenced Pest Management Technicians (LPMTs) work on affected farms, pastoral land and crown lands to reduce stock attacks and losses. CWBA also runs bait rack days to produce free 1080 meat baits for landholders, as well as funding free rabbit and feral pig bait mixing days to combat the feral pests which affect our land and livelihood.
The CWBA will continue to assist landholders in the control of these species using funding raised by a declared pest rate in 2018. Additional funding will be sought to supplement the program from government and industry grant opportunities.
________________________________________________________________________
Eastern Wheatbelt Biosecurity Group (EWBG)
The Eastern Wheatbelt Biosecurity Group (EWBG) is an incorporated organisation whose purpose is to assist landholders in the control of declared pests. The EWBG was the first biosecurity group in the agricultural region to became formally recognised by the Minister for Agriculture and Food under the Biosecurity and Agricultural Management Act 2007 (the BAM Act).
The Eastern Wheatbelt Biosecurity Group Inc. has been assisting the sheep industry to manage wild dog predation in the Eastern Wheatbelt since 2001, and has developed robust relationships with industry members, local governments, the mining industry and State Government departments.
The EWBG is also supported financially by the mining company Western Areas LTD (WSA), Australian Wool Innovation Limited, Department of Primary Industries and Regional Development, Department of Biodiversity, Conservation and Attractions, the State Government's Royalties for Regions program and the group's 11 member Shires.
Current shire members of the EWBG are Kondinin, Kulin, Lake Grace, Merredin, Mt Marshall, Mukinbudin, Narembeen, Westonia, Yilgarn, Trayning and Nungarin.
_______________________________________________________________________
Esperance Biosecurity Association
The Esperance Biosecurity Association, formerly the Northern Mallee Declared Species Group, formed in 2004 following a spike in wild dog attacks on sheep around Esperance and Munglinup. The group operates under the Biosecurity and Agriculture Management Act 2007 and works with their local community to manage declared pests at a landscape scale.
Since 2010 the group has been focused on raising the necessary funds to complete the State Barrier Fence extension that will separate the farmers in the Esperance region from wild dogs and emus in other areas. Once complete the fence will provide a natural system outside of the fence where species can interact without the presence of crops and sheep, as well as provide a sustainable environment inside for primary production.
________________________________________________________________________
Leschenault Biosecurity Group Inc.
NO DECLARED PEST RATE FOR 2018-19
The Leschenault Biosecurity Group Inc. (LBG) is a not-for-profit community group 'Recognised' by the Minister for Primary Industries and Regional Development. The group's aim is to have a sustainable system and secure funding in place for the management and control of declared pests and weeds in the LBG Operational Area. 
The LBG consists of a volunteer management committee, an executive officer and over 100 members representing the shires of City of Bunbury, Capel, Dardanup and Donnybrook-Balingup (covers the northern half of Donnybrok-Balingup, but excluding the localities of Grimwade, Mullalyup and Wilga West). The group was formed out of community concern for declared pests which are increasingly becoming a major impediment to the livelihood of producers and landholders.
The LBG takes a positive and proactive approach to facilitating declared pest management and are focused on achieving on-ground outcomes to compliment the great work that the majority of individual landholders are already doing.
Through community consultation, the group has established a number of priority pest species of concern which includes Cotton Bush, Apple of Sodom, Blackberry, Foxes and Rabbits; and continues to assist the DPIRD compliance enforcement period by providing information on Cotton Bush problem areas as a result of community feedback.
We are focused on continuing to facilitate a community coordinated approach to the current pest issues we face in our region.
________________________________________________________________________
Northern Biosecurity Group
NO DECLARED PEST RATE FOR 2018-19
The Northern Biosecurity Group (NBG) services areas including the Shires of Northampton, Chapman Valley and the City of Greater Geraldton (district of Mullewa). The NBG operates with a small committee and became a Recognised Biosecurity Group in July 2018.
The group's main aim is to take a proactive approach to facilitate declared pest management with a coordinated effort across the vast area working with local landholders, Licensed Pest Management Technicians (LPMTs) and government departments to ensure full management is enlisted where appropriate.
The group is currently funded through Federal and State Government to control wild dogs, feral pigs and opuntioid cacti. The NBG is planning on raising the declared pest rate (DPR) in 2019-20. Landholders are encouraged to update their Restricted Chemical Permits to participate in coordinated community baiting efforts.
________________________________________________________________________
Peel Harvey Biosecurity Group (PHBG)
 The Peel-Harvey Biosecurity Group (PHBG), in partnership with the Department of Primary Industries and Regional Development, was formed in 2014. The group is a community organisation working with farmers, land managers, representatives from State Government agencies, Landcare SJ, and the local governments of Serpentine-Jarrahdale, Murray, Waroona, Harvey and Mandurah.
The group has been working on providing community engagement in the form of workshops, information sessions and attending community events such as local agricultural shows, equestrian events and shire consultation evenings. View the Annual Report.
The PHBG operates in five local government areas across the Peel-Harvey region. These shires include Serpentine-Jarrahdale, Murray, Harvey, Waroona and Mandurah.
______________________________________________________________________
Southern Biosecurity Group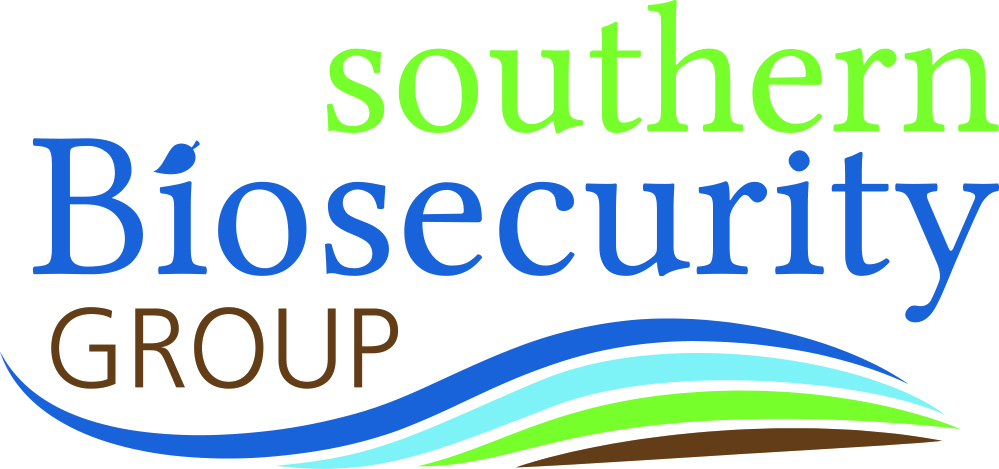 Southern Biosecurity Group (SBG) is the declared species group for the Shire of Ravensthorpe. SBG is a subgroup of the Ravensthorpe Agricultural Initiative Network (RAIN) with the mandate to coordinate control of declared pest species in the Shire of Ravensthorpe. 
We first began operating in 2002 as the Ravensthorpe Declared Species Group. At that time, our role involved coordinating wild dog control in the shire. We achieved good control of wild dog numbers through a range of activities including dispersing of 1080 baits, trapping and shooting.
We believe declared pests can be better managed by a coordinated approach between community, industry and government. This belief has led us to become a Recognised Biosecurity Group through the Biosecurity and Agricultural Management Act 2007 (BAM Act). This means community funds raised through the declared pest rate are matched dollar for dollar by government, enabling us to provide coordinated and targeted control of declared pests within the shire. 
Key priorities for the group include the control of wild dogs, foxes, and rabbits as well as the eradication of drooping prickly pear. The Southern Biosecurity Group meets quarterly. 
________________________________________________________________________
PASTORAL REGIONS
There are five Recognised Biosecurity Groups (RBG) operating in Western Australia's rangeland areas. These groups have had declared pest rates raised in their areas since 2014. Prior to that, since 1976, the rate was collected as the Agriculture Pest Rate (APR) under the Agriculture and Related Resources Protection Act 1976 (ARRPA). APRs were matched dollar-for-dollar by the State Government, and activities were supported by Zone Control Authorities (ZCA).  
Following the repeal of the ARRPA in 2010 and implementation of the Biosecurity and Agriculture Management Act 2007, pastoral ZCAs were abolished, paving the way for a transition to RBGs.
Meekatharra Rangelands Biosecurity Association Inc
The Meekatharra Rangelands Biosecurity Association Inc (MRBA) is an industry body with a membership of all pastoralists in the Shires of Yalgoo, Mount Magnet, Cue and Meekatharra. There are also a number of pastoral properties in the Shires of Mount Marshall and Perenjori that are part of the MRBA. The Association has been established under the Biosecurity and Agriculture Management Act 2007 with a charter to manage and control declared pests, both animal and plant.
The MRBA Constitution provides for a Management Committee, of up to 11 members, with the responsibility of overseeing the operation of the Association.
MRBA operations are funded from annual declared pest rates paid by pastoralists, which are matched by the State Government and also one off grants from State and Federal NRM programs, Royalties for Regions and other sources.
The MRBA area covers approximately 184 000 square kilometres and incorporates 93 pastoral properties. Of these 93 pastoral properties, there is a mix of tenure ranging from pastoral leases, mining leases, Unallocated Crown Land, national reserves and indigenous managed pastoral leases.