Beerenberg is a South Australian family-owned business, acclaimed for its premium jams, pickles, sauces, dressings and condiments. The Beerenberg Family Farm, retained by the family since 1839 is also a tourist attraction and retail store, growing 'pick your own' strawberries. The company is one of the best-known brands in the hotel industry in Asia-Pacific, supplying single portion packs..
Read the Beerenberg snapshot for quick details on the full-length case study. 
Patterns of success demonstrated by the case study include: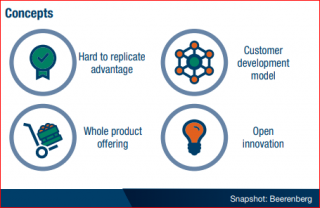 Benefits of reading the Beerenberg Case Study:
The elements of value that Beerenberg's whole product delivers to customers.
An in-depth explanation of the customer development process.
Real-world examples of open innovation.