Training 
Shearing and woolhandling hub camps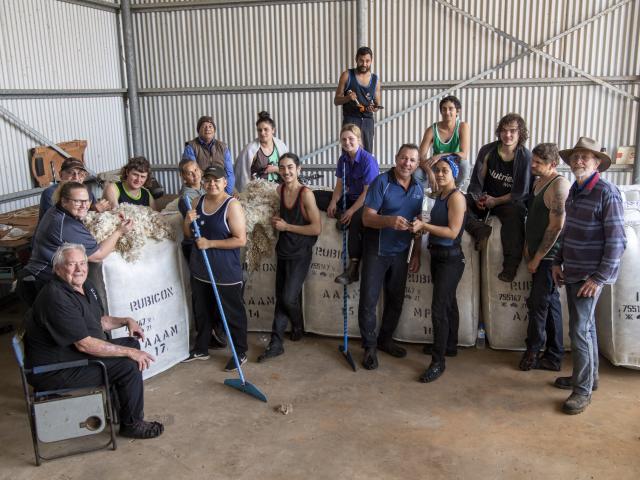 The Department of Primary Industries and Regional Development (DPIRD) unveiled an innovative effort in early 2020 to simultaneously meet the employment needs of young Aboriginal people in regional Western Australia and labour requirements of the State's shearing industry.
The Aboriginal Economic Development (AED) team mustered industry and community support to organise two practical pilot shearing training camps for young Aboriginal people. The training was  held over two weeks at farms near Northampton and Brookton in January and March, 2020.
Twenty participants aged between 13 and 29 worked alongside mentors and accredited trainers prior to graduating from the program. 
Eleven of the graduates have since been formally connected with industry members to obtain further employment. Following each camp, participants were provided the opportunity to participate in follow-up skills refresher training .
After completion of the second training camp in the Wheatbelt in March, 2020, prior to the onset of COVID-19, plans were underway for additional camps throughout the year to create employment opportunity in the Great Southern, Mid West, Wheatbelt, and Esperance regions.
The potential to establish permanent shearing training hubs in targeted regional areas is now a real opportunity to meet industry employment needs.
DPIRD is partnering with Australian Wool Innovation, the WA Shearing Industry Association, and local businesses and community groups, including Aboriginal organisations such as Mhunga Whalla Incorporated, where possible, to help organise the events.
In addition to providing new employment skills for Aboriginal people, the training helps meet rising demand for shearers to assist replacement of the ageing workforce, and dependence on importing skilled shearers from overseas.
With shearer from New Zealand unable to re-enter WA due to COVID-19, the Western Australian Shearers Industry Association recently noted there will be vacancies for novices in shearing teams from the start of the spring season.
Contact AED Project Manager Ashley Talbot for further information at aed@dpird.wa.gov.au or call Ashley direct on 0468 715 981
Pilot Aboriginal Pastoral Academy
The Aboriginal Pastoral Academy is a pastoral training program that provides practical skills for Aboriginal trainees looking to pursue employment in the pastoral industry.
Module 1 of the pilot program took place in the Kimberley in December 2020 with a cohort of 12 participants in a week-long introduction to pastoralism course. This module, the first of several, was aimed at delivering diverse theoretical and practical pastoralism skills.
Participants undertook leadership and personal development training, a tour of Roebuck Plains Station, run by Nyamba Buru Yawuru, and initial literacy and numeracy activities that will be built on in subsequent modules.
The introductory course leads into Module 2; an intensive month-long 'boot camp' conducted in March, 2021, to prepare students for muster season.
Upcoming training and events
Contact the Aboriginal Economic Development team to be be added to the mailing list and kept up to date about upcoming training and events.