The Support services directory lists a range of Federal and State assistance measures, with contacts and links to financial support measures, water support, regional counselling services and crisis care.
Seasonal update
A guide for how the season is going on each lease, compared to other years, is the NDVI (greeness index) chart for 2020. The charts are updated each month.
Although much of the rangelands has experienced below average rainfall in 2019, industry are responding to the challenges with:
increased water infrastructure being installed across the region
a variety of agistment arrangements ensuring that available feed and water for livestock is optimised
implementation of herd management plans.
Planning for 2020–21
Use climate forecasts, remote sensing information and your observations and experience to plan stocking rates for the year.
Review climate outlooks
Prepare a forage budget
Determine carrying capacity vs. stocking rate
Prepare a plan to reduce your stocking rate (if required)
Review climate outlooks
Late rainfall onset likely for much of northern Australia
The chance of an early northern rainfall onset for the 2019-20 season is low over large parts of northern Australia. Areas which have a less than 30% chance of an early rainfall onset include much of the Top End and central parts of the NT, Cape York Peninsula and eastern Queensland, and the far north Kimberley in WA. In other words, these areas have a greater than 70% chance of a late rainfall onset. Most of northern WA has roughly equal chances of an early or late rainfall onset.  
The northern rainfall onset outlook gives an indication of whether the first significant rains after 1 September are likely to be earlier or later than normal.
Influences
The El Niño–Southern Oscillation (ENSO) is currently neutral, and forecasts indicate it is likely to remain neutral to at least the end of 2019. This means it is unlikely to be influencing the northern rainfall onset outlook towards either an earlier or later than average onset. 
However, waters in the western tropical Pacific Ocean remain warmer than normal, while water temperatures around northern Australia are average to cooler than average. This pattern would typically favour cloud formation away from northern Australia. 
The Indian Ocean sea surface temperature pattern remains consistent with a positive Indian Ocean Dipole (IOD). This is expected to persist for the coming months. A positive IOD typically leads to drier than average conditions across northern Australia during the second half of the year. IOD events typically break down in early December, so this driver is unlikely to have a significant influence on rains beyond early December.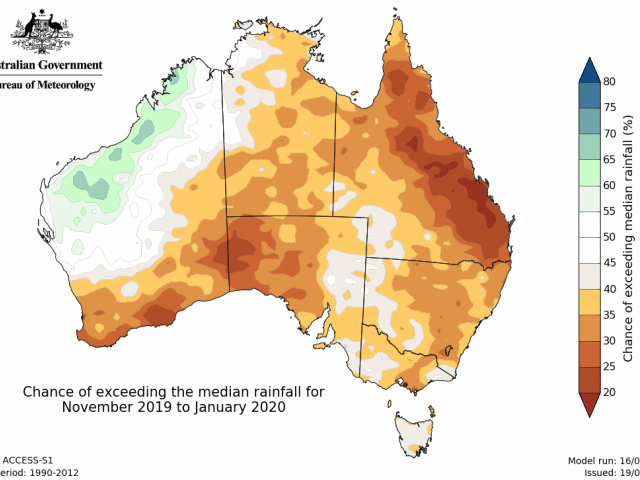 Climate and weather information and contacts

Climate information

Details

Commentary on recent weather conditions across the north and links to tropical monitoring pages from the Bureau of Meteorology

Details and charts of rainfall and temperature outlooks from the Bureau of Meteorology

Additional seasonal information relevant to northern Australia, provided by the University of Southern Queensland

Climate Mates

 

Two regional 'Climate Mates' are available to assist pastoralists with climate information and tools via email, phone, webinar and on-station visits:
 

Climate outlooks - The Long Paddock

A Queensland Government initiative that provides climate and pasture information to the grazing community, including access to rainfall and pasture outlooks and decision support tools to support land management decision making and planning. Some WA pastoralists may benefit from the tools on the site.
Prepare a forage budget
Adjusting stocking rates to meet current feed supply; livestock feed intake and nutritional requirements; pasture utilisation; and ground cover targets is considered best management practice.
A forage budget will assist in decision-making:
if it is safe to carry more stock;
to carry the same number for longer; or
or if there is not enough pasture to safely carry the number you have for the length of time you want.
Tools and information to support forage budgeting:
Determine carrying capacity vs. stocking rate
Plan to reduce your stocking rate
Other resources
Support services directory
A range of Federal and State assistance measures are in place to support farmers and pastoralists experiencing hardship, as a result of seasonal pressures.
The Support Services Directory harnesses a range of financial, water and welling support, as well as links to Regional Counselling Services and 24/7 crisis care.
Western Australia does not have a drought declaration system so no formal declaration needs to be made to access these services.
The Federal Government's National Drought Policy and National Drought Agreement aims to build resilience to climate variability and dry season pressures, specifically through bolstering risk management practices and enhancing long-term preparedness. See the national On-farm Emergency Water Infrastructure Rebate Scheme.
Note: the Department of Water and Environmental Regulation administers the WA component of the On-farm Emergency Water Infrastructure Rebate Scheme.
SUPPORT SERVICES DIRECTORY

FINANCIAL SUPPORT

A website that harnesses information about Commonwealth and State/Territory assistance (includes Drought Loans, Farm Investment Loans, Farm Household Allowance)

 

Assists farming families experiencing financial hardship with income to maintain their household

13 23 16 or 1800 612 004

Low interest loans for businesses to improve the strength, resilience and profitability  of their businesses (provided by the Regional Investment Corporation)

1800 875 675

Free financial counselling service to assist primary producers

1800 612 044

Assists farm and pastoral businesses and financial institutions to resolve disputes about business financial arrangements, through a low cost and non-legal form of mediation

1800 198 231

Income support programs for farmers and rural small businesses

13 23 16

Funds for household expenses

9321 6041

WATER SUPPORT

National On-farm Emergency Water Infrastructure Rebate Scheme (WA)

Rebates of 25% up to a maximum of $25,000 for the purchase and installation of new water infrastructure and equipment to eligible commercial livestock farmers and pastoralists

1800 780 300

Farm Water Supply Planning Scheme (agricultural and pastoral regions)

Rebates of up to $1000 for commercial broadacre and pastoral farmers experiencing water shortages to fund an audit of farm water supply and potential improvements

1800 780 300

WELLBEING

24 hour crisis support, suicide prevention and mental health support services

13 11 14

Counselling for individuals, couples and families experiencing challenges to help them cope, improve wellbeing and identify options

Provides support and education services to regional men, communities and health services

9690 2277 (office hours)

Provides information and referrals regarding health, finances, legal matters, counselling and domestic crisis

1800 199 174

OTHER INFORMATION

Western Australia's rural health, financial & information services support directory

Contacts for a range of 24 hour support, financial and family counselling, health, emergency and ancillary services

 

Grant funding opportunity to manage pest animals and weeds

 

The Australian Government is inviting local councils via a restricted competitive process to apply to deliver projects under the Communities Combating Pests and Weed Impacts During Drought Program - Biosecurity Management of Pests and Weeds - Round 2 in selected Local Government Areas (LGAs) in 2019–2021.

1800 020 283
More information
For queries or information relating to cattle management during the season, please contact the department's offices at Broome on +61 (0)8 9194 1400 or Kununurra on +61 (0)8 9166 4000.
Alternatively, contact one of the officers below:
Department contacts

Contact

Details

Trevor Price
Manager
Northern Beef Development
 

Broome office
27 Hunter Street, Broome WA  6725
t +61 (0)8 9194 1441
m +61 (0)437 826 003
e Trevor.price@dpird.wa.gov.au

Stephanie Coombes
Development Officer
Northern Beef Development - Pilbara
 

Broome office
27 Hunter Street, Broome WA  6725
t +61 (0)8 9194 1430 
m +61 (0)436 616 219
e Stephanie.coombes@dpird.wa.gov.au

Matthew Fletcher
Development Officer
Land and Water Assessment
Kimberley
 

Kununurra office
Durack Drive, Kununurra WA  6743
t +61 (0)8 9166 4044
m +61 428 637 710
e matthew.fletcher@dpird.wa.gov.au

Kath Ryan
Development Officer
Land and Water Assessment
Kimberley and Pilbara
 

Kununurra office
Durack Drive, Kununurra WA  6743
t +61 (0)8 9166 4044
e kath.ryan@dpird.wa.gov.au